Beginning the Discernment Process
What Is God Calling You To?
It isn't always easy to know to what way of life we are being called. St. Francis of Assisi himself didn't understand from the beginning of his conversion what God wanted him to do, but St. Francis was open to the working of the Spirit in his life and was willing to follow where the Spirit was leading him. For us as well, if we are to hear the voice of God and to respond to His unique call for each one of us, we have to be open and receptive to the signs in our life that point the way to what we are meant to be. This listening and responding to God's call for each one of us is called discernment and it is a process that gradually makes clear what we are being called to.
"Your vocation is the place God calls you to where your deepest happiness meets the world's deepest hunger."- Frederick Buechner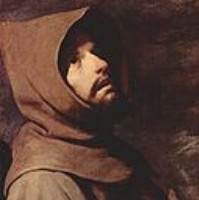 Learn more about the Capuchin Franciscans and their way of life. If you are a single Catholic male between the ages of 18 and 40, have completed a high school education or better, live in New York State or the New England states and feel the Lord may be calling you, we would like to learn more about you.
If you would like to discuss your possible call, please feel free to contact Fr. Marvin Bearis, O.F.M., Cap., Director of Vocation Ministry. Fr. Marvin can be reached at 203-382-4513; or at frmarvinofmcap@gmail.com; or at Blessed Solanus Casey Residence, 123 Nancy Drive, Bridgeport, CT 06604.
We offer a number of discernment weekends throughout the academic year to give you an opportunity to meet with other men your age with similar interests as well as get to know some of our Capuchin Franciscan brothers. Fr. Marvin will be happy to visit and talk with you about these discernment weekends. You are also encouraged to visit our Capuchin Franciscan friaries and ministerial sites to become more familiar with our way of life and to witness our brotherhood in action.
One of our friars in post-novitiate, Paul Fesefeldt, offers his reflections on how the candidate weekends helped him to discern his call to religious life with the Capuchins.
The discernment weekends for those who are considering joining the Capuchins of the Province of St. Mary offer two important views of their religious life, the theoretical and the practical. Theoretically the weekends are structured around informational themes about the life of the friars. Talks this year included charisms, mission, discernment and vocation. As a candidate I found these talks especially helpful in my decision making process. They really helped me to understand the "nuts and bolts" of the Order so that I could relate them to my own journey to see if they felt like the right fit or not. Practically, I was able to gain real experiential knowledge of the friars and their life. By praying, sharing meals, relaxing and talking it was easy to truly "get" who the friars are.

For me the practical aspects of the weekends were central to my decision to apply for postulancy this year. While the talks were excellent, experiencing the friars was indispensable. By spending time with each friar I was able to truly understand what they were all about. Their personalist approach to life came through in everything they did. Whether in the talks, the liturgy, at meals, or just hanging out it was easy to tell that they were a family whose primary energy was other-focused. Even if they didn't see eye to eye with each other that never translated into not wanting to support and love one another in every aspect of their life and ministry. This was also evident to me in their attitude towards the candidates. I never felt the friars trying to force me into some sort of mold. What I felt was a genuineness that said, "This is who we are and we value who you are and what we can bring to each other."
_____________________________________________________________________________________________________________________